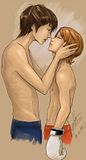 Credits to:
Hisoka
*Actually, this specific fanart encouraged me to start this new community. It also inspired me to make the scene of my next fanfic to be based on this. I'll link my finished fanfiction to this fanart! Please wait for it!
Anyways, here's a mini-drabble for you (it turned out to have a touch of comedy for some reason..haha):
Yamapi: Tatsuya, you're the only one I see, the only one I hear, the only person for me.
Tacchan: LIES! All lies! I saw you! You and Tegoshi! *tears* I heard you! I heard you lovingly say 'Tego-nyan'.
Yamapi: Tatsuya, look at me! *caresses Tacchan's face* Look only at me! You're the most beautiful person to me. No one could ever change that, understand?! NO ONE. Not now, not ever.
Tacchan: I don't believe you.
Yamapi: Even if you don't believe me, I'll keep loving you with all that I have until you finally realize that what I'm saying is true.
Tacchan: Hn. Prove it.
Yamapi: I can only be with you. I love you more than my life. *Pi reaches out and leans down to kiss Tatsuya passionately & do some other *beep beep* things!
[insert smut here--if you'd like to help me with this.. let me know and I'll insert and credit you.]
The morning after...
Yamapi: I really can't believe that you were jealous over someone like Tegoshi. You are one thousand times hotter and sexier, love. I would never replace you for Tegoshi... or anyone for that matter. *kiss* I love you so much.
Tacchan: Me... me... too. *kiss*
-THE END (of a mini)-
=)
Current Mood:
excited
Current Music: 上田竜也の花の舞う街